Call (716) 447-1688 today for your roofing estimate.
"…We have and will continue to recommend Try-Lock Roofing, without reservation, to our families and friends. Your company and its employees are exceptional."
Carol Walbesser, Owner & Diana Cicciarelli, Director
AMHERST BABY & CHILDCARE CENTER, INC. – AMHERST – NY
Call (716) 447-1688 today for a free and fair estimate on your commercial roof project.
Try-Lock Roofing Inc. proudly provides unparalleled commercial roofing installation and replacement services to Buffalo and all of Western New York. We're the area's leading commercial roofing contractor for a reason. Call (716) 447-1688 for an estimate on your roofing installation or replacement!
We work on a variety of different roofing systems, including:
Try-Lock is proud to offer Elevate's RubberGard EPDM Roof System, one of the most versatile single-ply rubber roofing systems on the market.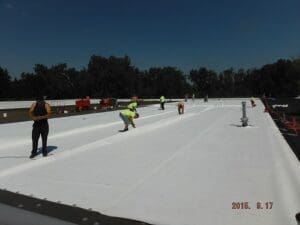 Elevate UltraPly TPO roofing membrane is great for almost any type of roof, especially low- slope commercial roofs.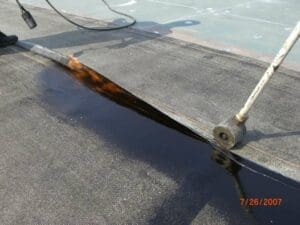 GAF RUBEROID® Torch Smooth Membrane is a modified bitumen roofing system that comes in both smooth and granular surfaces depending on your needs.
What's the average cost for commercial roof installation?
While the total cost of a commercial roof install or replacement depends on the type of roof, its condition and especially the size of the project, most studies place the cost of replacing a commercial roof anywhere from $7.00 to $35.00 per square foot. Depends on size of your roof, ease and access to your roof, recover or tear off, how may roof layers. and how much insulation do you need.
With that said, there's really no way to estimate the cost of your installation accurately without our Salesman actually taking a look at your roof. While online cost calculators do exist, take them with a grain of salt most of them are not up to date.
Should I repair, re-cover, coat or replace my commercial roof?
Thankfully, since they're such major investments, most commercial roofing systems are built to last. But they can't last forever, and when problems like leaks start popping up, they won't stop until you put some time and money into rectifying them.
Business owners have a variety of options when it comes to working on their roofs. They could choose to repair isolated damage, re-cover the roof to prolong its lifespan, coat the roof to add some protection or opt for a total tear-off and replacement. Each decision has its merits.
Commercial roof repairs are good option if:
Your roof is essentially still in good shape and damage is isolated;
You want to keep costs down.
However, if your roof's problems run deeper than just a few leaks here or there, repairs will only fix these issues in the short term.
Roof Re-Covering
Re-covering your roof basically entails adding another membrane on top of the membrane that already exists. It's a good option if:
Your roof has never been re-covered before;
You don't have problems with insulation;
You can't afford a full replacement right now.
Keep in mind, however, that your roof can only effectively be re-covered once.
Roof coating generally comes in the form of a thin liquid membrane that is applied to your roof to add another layer of protection. It's a good option if:
Your roof is basically in decent condition;
You don't have any issues with insulation;
Your main concern is extra protection from the elements;
You don't have a huge budget for repairing your roof.
Roof Installation, Repairs or Coatings
With all of these other options available, you might wonder why you would bother to totally replace your roof at all. However, repairs and coating are only really stopgap measures. Repairs and coatings can help prevent temporary leaks but are not a permanent solution for all of your roof issues.
Typically, installation of a new commercial roof is advisable and cost-effective if:
25% or more of your current roof is significantly damaged;
Your building and contents cannot have roof leaks pop up from time to time;
Your insulation is wet, soaked or collapsed;
You plan to own your building for a while and want to invest in updating it;
You'd like to maximize your energy savings with high R-value insulation;
If you're curious about what the best option for you might be, feel free to give Try-Lock a call at (716) 447-1688 to go over your options.
When is the best time to install a new roof?
With many older roofing materials, you wouldn't want to install a new roof anytime that the temperature is below 40 degrees. The risk of damage to roofing materials during the installation process is much higher anytime the temperature is anywhere near freezing. Your best bet for a successful, headache-free install is generally anywhere from early spring to late fall, before it starts to get too cold.
Some modern roofing materials, however, can be installed at even lower temperatures without significant risk of damage. Depending on your roofing project, as long as your roof is clear, you may be able to install a new roof year-round.
Our suggestion? Plan ahead. If you know that you need significant roofing work, especially a new commercial roof, plan it out far in advance. That way, you'll be able to lock down the roofing company that you trust the most.
For these and any other roofing questions, we invite you to call Try-Lock Roofing Inc. at (716) 447-1688 to discuss your needs, We're the leading commercial roofing contractor in Western New York for a reason.
OTHER SERVICES